We are proud to participate in organizing symposia at the leading material science conferences. Serving our international community and bringing together the most excellent researchers in the area of crystal deformation and bulk metallic glasses is a very stimulating task and helps us to critically discuss new research directions or to define new goals on our joint path to develop future engineering materials.
Wondering why you should join the TMS annual meeting? Here what we had to say about this prior to TMS2021 and what remains true:
Click below on the corresponding image/title to explore our recently organized symposia.
Bulk metallic glasses XX (TMS2023)
Bulk metallic glasses XIX (TMS2022)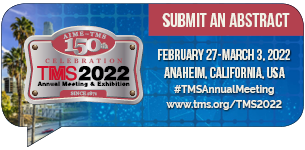 Bulk metallic glasses XVIII (TMS2021)
Bulk metallic glasses XVII (TMS2020)

Local and Global Fluctuations in Plasticity (MRS Spring Meeting 2020)
Earlier organized symposia include:
Bulk metallic glasses XVI (TMS 2019)
Strain localization, avalanches, and intermittent deformation mechanisms (MRS Spring Meeting 2018)
Bulk metallic glasses XV (TMS 2018)
Cooperative phenomena in plasticity (APS March Meeting 2015)