Metallic glasses are highly performing amorphous metals, that unfortunately exhibit a limited amount of ductility at room temperature and a lack of strain hardening. Macroscopic inhomogeneous deformation of metallic glasses is controlled by the operation of shear-bands. In fact, most metallic glasses can only be strained a small amount before the activation of shear bands lead to quick failure. The detailed processes underlying the life-cycle of shear bands is mostly unknown, which is due to their spatial confinement and short activation time. My current research activities in the field of metallic glasses revolve around shear-band mediated plasticity. This includes the fundamental unit of local plastic transformations in the amorphous matrix, the formation, propagation, and arrest of shear-bands, and how ductility of metallic glasses can be improved by tuning shear-band properties.
The main research projects are:
1) Small scale mechanical behavior of metallic glasses
2) Shear-band stress fields and structure
3) Shear-band dynamics
4) Thermally activated plasticity

1) Small scale mechanical behavior of metallic glasses
Here the flow response of micron- and nano-scale samples is investigated. In particular, micro-compression is used to probe size-dependent mechanical properties, which can be markedly different than what is observed at the macroscopic scale. Of interest are for example the apparent change in plastic flow behavior below a critical sample size, size-dependent fatigu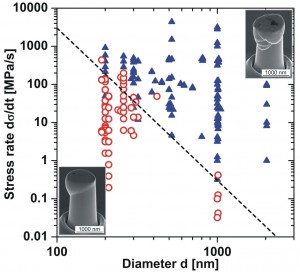 e strength, or local nano-mechanical properties of shear-bands. Whilst it is fundamentally quite remarkable and interesting that a disordered metal changes properties upon reduction of extrinsic dimension, it also shows that metallic glasses have an unexplored potential for micro-mechanical applications. One question we have recently explored is why localized plastic flow changes to apparent homogenous flow below a certain sample size. This long lasting question found its answer in a scaling effect of the involved defects (shear-bands), and this research project also revealed the rate dependence of this transition in flow mode at small scales: homogeneous flow is then even observed at the micron scale! Read more about it in our paper published in Advanced Materials.
Related publications:
Rate-dependent shear-band initiation in a metallic glass
Room Temperature Homogeneous Ductility of Micrometer-sized Metallic Glass
Fatigue deformation of microsized metallic glasses

2) Shear-band stress fields and structure
Shear bands in metallic glasses are governing the mechanical stability during plastic flow. Due to the disordered atomic structure, the true structural state and signature of a shear band is challenging to study and to characterize. We are currently employing nanomechanical and electron microscopy methods to investigate the structural signature of isolated shear bands. The most recent insights reveal that even though shear bands are believed to have a nm thick core, they also have a long range stress field, which can extend hundreds of micrometer away from the planar defect. Follow our research to learn about the latest developments in characterizing stress fields and the structure of flow defects in metallic glasses.
Related publications:
A single shear band in a metallic glass – Local core and wide soft zone
Long range stress fields and cavitation along a shear band in a metallic glass – The local origin of fracture

In the past years, we have carefully investigated the dynamics of shear bands in metallic glasses. Our research has traced different stages in real time during a shear-band cycle. This body of work revealed thermally activated shear-band propagation, shear-band arrest, shear-band aging, shear-band creep, and was also able to measure shear-band initiation. Furthermore, the influence of alloys chemistry and topology has been investigated, revealing quite general trends that can rationalize why some metallic glasses are mechanically stable during shear, and others not. Our recent invited review article in Advanced Functional Materials summarizes a larger fraction of this work, and ongoing efforts are dedicated to find a suitable tuning knob to design metallic glasses that are plastically stable. If you want to find out more about shear-band arrest, please browse our related publications below.
Related publications:
A single shear band in a metallic glass – Local core and wide soft zone
Shear-band arrest and stress overshoots during inhomogeneous flow in a metallic glass
Single shear-band plasticity in a bulk metallic glass at cryogenic temperatures
Probing Shear-Band Initiation in Metallic Glasses
Propagation dynamics of individual shear bands during inhomogeneous flow in a Zr-based bulk metallic glass
Stick-slip dynamics and recent insights into shear banding in metallic glasses
Temperature-dependent shear band dynamics in a Zr-based bulk metallic glass

4) Thermally activated plasticity
Plasticity of metallic glasses is, as for crystalline metals, thermally activated. Despite many athermal treatments of plasticity of metallic glasses, this should strictly speaking be valid at all temperatures. The above outlined work on shear-band dynamics could for example provide direct evidence for the thermally activated nature of shear-banding. An apparent activation energy of 0.32 eV could be assigned to shear-band propagation (Acta Mater. 59, 2011), and 0.16 eV to shear-band arrest (APL 100, 2012). These experimental insights are motivating a theoretical development that captures thermally activated plasticity at all temperatures. This is done in collaboration with Dr. Peter M. Derlet, a staff theoretician at the Paul Scherrer Institute in Switzerland.
Current developments are based on the possible accessible states for an irreversible local plastic transition within a picture of a potential energy landscape. At temperatures well below the glass transition, the thermal accessibility of the complex potential energy landscape is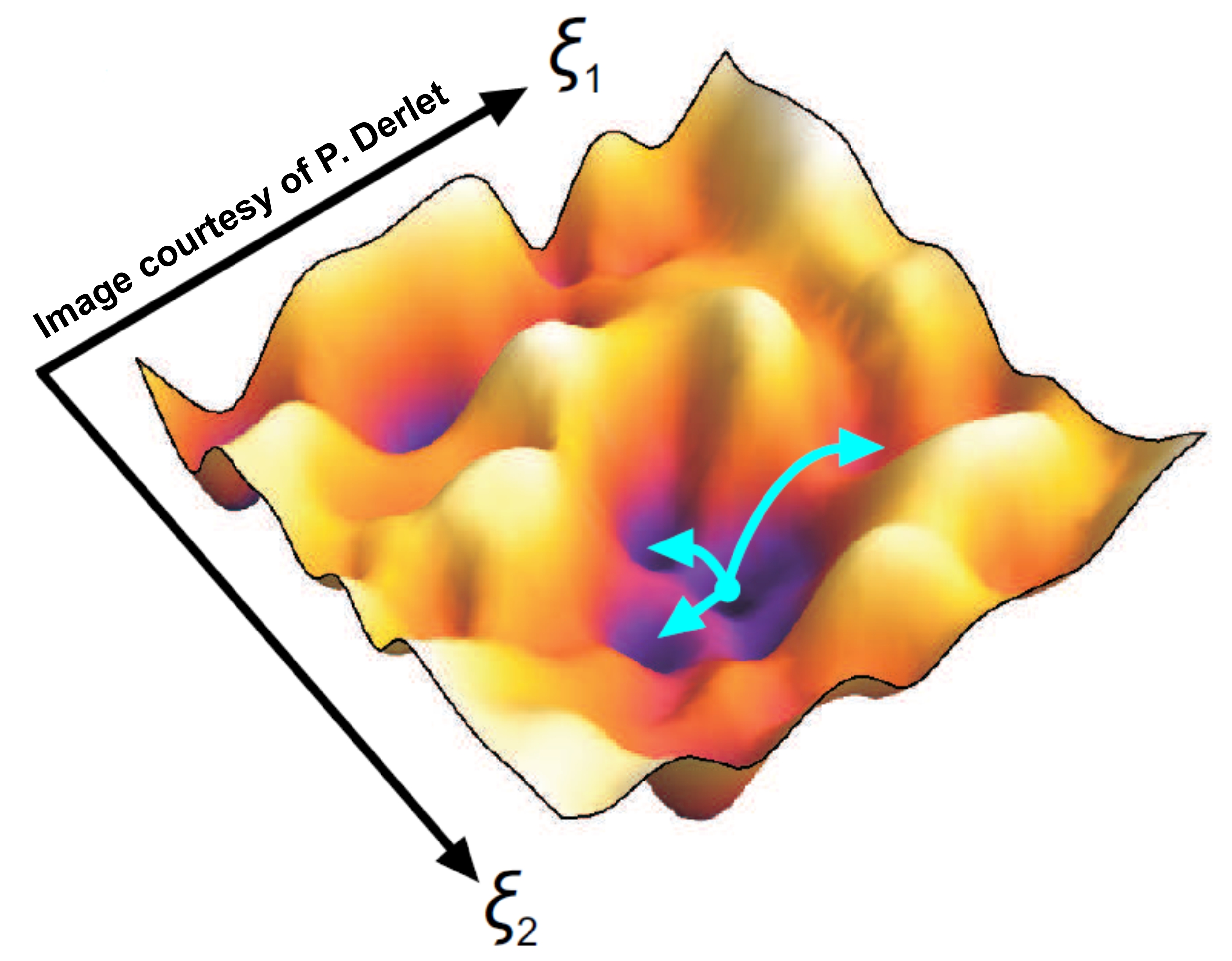 drastically reduced, and the statistics of extreme value and the phenomenon of kinetic freezing  become important, affecting the spatial heterogeneity of the irreversible structural transitions mediating the elastic-to-plastic transition. As the temperature increases and approaches the glass transition temperature, the theory is able to smoothly transit to the high temperature deformation regime where plasticity is known to be well described by thermally activated viscoplastic models.
Related publications:
Linking high- and low temperature plasticity in bulk metallic glasses – thermal activation, extreme value statistics and kinetic freezing
Thermal-activation model for freezing and the elastic robustness of bulk metallic glasses